I will be racing again in the Peter Best Insurance Champiomship with the MGCC.
2009 Race Dates Confirmed:

I will be entering all events with LR1S for Lunar racing, the only dates that have a conflict is Silverstone as it is my Sons Birthday
so to avoid devorce I may not be able to attend all weekend, however I will aim to be there on Friday and Sunday. We will now be entering
the Mallory round.

I am looking forward to the start of the season and we plan a end of year track day as a thank you for support this season depending on organiser
I was going to suggest track rides for a small fee to go to charity.

Round 1
4th April - MGCC Race Meeting - Donington Park.
Round 2
9th May - MGCC Race Meeting - Oulton Park.
Round 3
30/31st May - MGCC Race Meeting - Brands Hatch.
Round 4
30/31st May - MGCC Race Meeting - Brands Hatch.
Rounds 5
11/12th July - MGCC Race Meeting - Silverstone International.
Round 6
2nd August - 750 Motor Club Meeting - Mallory Park.
Round 7
5th September - MGCC Race Meeting - Cadwell Park.
Round 8
5th September - MGCC Race Meeting - Cadwell Park.
Round 9
3rd October - MGCC Race Meeting - Snetterton.
Round 10
4th October - MGCC Race Meeting - Snetterton.

Students get started on rebuild pulled straight and first panel cut off.
Rear wing, boot floor and back panel awaiting fitting, then respray.
Round 1 Donington Park April 4th 09
After the closed season rebuild we finally got to race. A new season has started and we have a new school partner in Cheadle High School to support the MGCC race series. Donington was going to be interesting with 33 runners and the problem of yellow flags from Mcleans to Coppice due to MSA restrictions.

Saturday morning's practice was the first chance to run the car since the winter rebuild and the car performed well, we qualified 21st on the grid which was a good start. It was good to see the students getting hand's on experience setting the car up pre race and I hope they enjoyed it. Thanks to Toyo for the supply of Sparco overalls for the students.

Race - After being held on the lights for what seemed an eternity the lights went out and we were off, the normal sprint to redgate looked like we had gained a few spaces, until the esse where a little over-breaking allowed one competitor through. The race was a good shake down for the car and lap times kept coming down, at the chequered flag we had taken some 7 seconds from last years lap times. Clearly the suspension, gearbox and brakes modifications had paid off. That's nine points in the bag an leaves us 6th in a class of 19!

Thanks to the students at Cheadle High School, and to L&M Ventilation a new sponsor for the 2009 season. With forthcoming upgrades the car should be even quicker for the rest of the season and we look to build on our 4th place in 2008.
Round 2 Oulton Park 9th May 09
After the improvements made at Donington we looked forward to round 2.

It was an early doors start with signing on at 0730hrs. With 24 runners we were set of a goods day racing at Cheshires finest curcuit.
Saturday morning's practice went well we qualified 15th some 14 seconds quicker than last years race (damp).

This was followed by some set up tweaks and oil change by the students prior to the race.
Race – Starts need some work I managed to get bogged down at the lights and all 24 cars steamed to the first corner, this year there was not casualties however running down to cascades force me wide and I lost a few places.

Buy lap 2 we had settled into a good race pace.

I was chasing a MGC for 3rd in class I had to make move at Old Hall, which allowed me to chase the pack down.
At the flag I had moved back up to 14th with a best lap time some 17 seconds quicker than last year.

I finished 3rd in class and won our first MGCC trophy this season, we have some work to do now to catch the 2 4ltr V8's ahead of me in class, nothing like a challenge.
After 2 rounds we have moved up to 3rd in class overall in the championship.


Thanks to ZSCentral.co.uk for the collection from forum members for sponsorship raised, this is appreciated and will be used towards costs of getting the cars to and from rounds this year.

Round 3 & 4 Brands Hatch 31st May 09
Brands Hatch

Qualification left me in 22 out of 30 cars we managed to take a couple of seconds of last years times so improvements all round for driver and car 103.505

Race 1
After a good start I was court up in a few spinners at the bottom of paddock hill bend which left me 26th, the car went well and a few tweaks after practice gave me more grip which meant I could claw my way back to 18th overall which I was pleased with and a fastest lap of 101.311
http://www.youtube.com/watch?v=TZZao6S7Sfc

Race 2
Again I made a good start and the grunt of the V6 allowed me to make up a few places from the line, I started 21st I had an absolutely cracking race and made my way to 14th overall and finished 4th in class. With fastest lap being 100.997 which was 6 seconds quicker than 2008
This leaves me 2nd in class after 4 rounds so this season is starting to come together, out of 18 runners. Silverstone is next with all 18 cars in class running which means several v8's and MGC to beat which should be interesting.
http://www.youtube.com/watch?v=VvXMh7j-vjg

I will be entering 2 x 2 driver events at Silverstone so plenty of track time with 2 guest drivers, see you then.
Round 5 Silverstone International + 2 driver races 11th & 12th July 09
Peter Best Insurance Race - In car video
The Race went well and I had a good tussle with Jonesey in the MGB as ever. Due to big grids at Silverstone this round will be dropped
for the chapionship.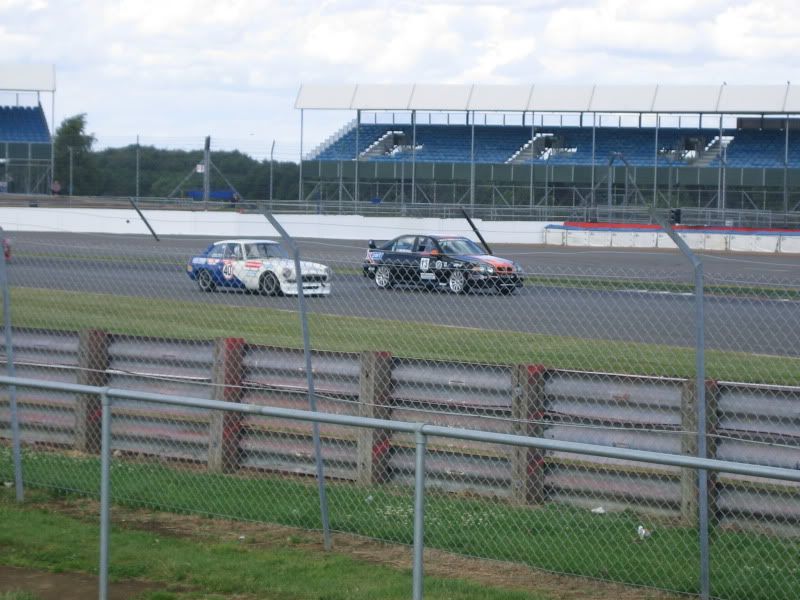 In car video - http://www.youtube.com/watch?v=I0ER5DplQqw
2 driver races, this year we entered the 2 2 driver 30 minute races, I was joined by fellow Lunar Driver Cassey Watson and
Tim Lewis who drove with me last year.
Great team results and thanks to Cassey for bring the car back in one piece when she was shunted into turn one.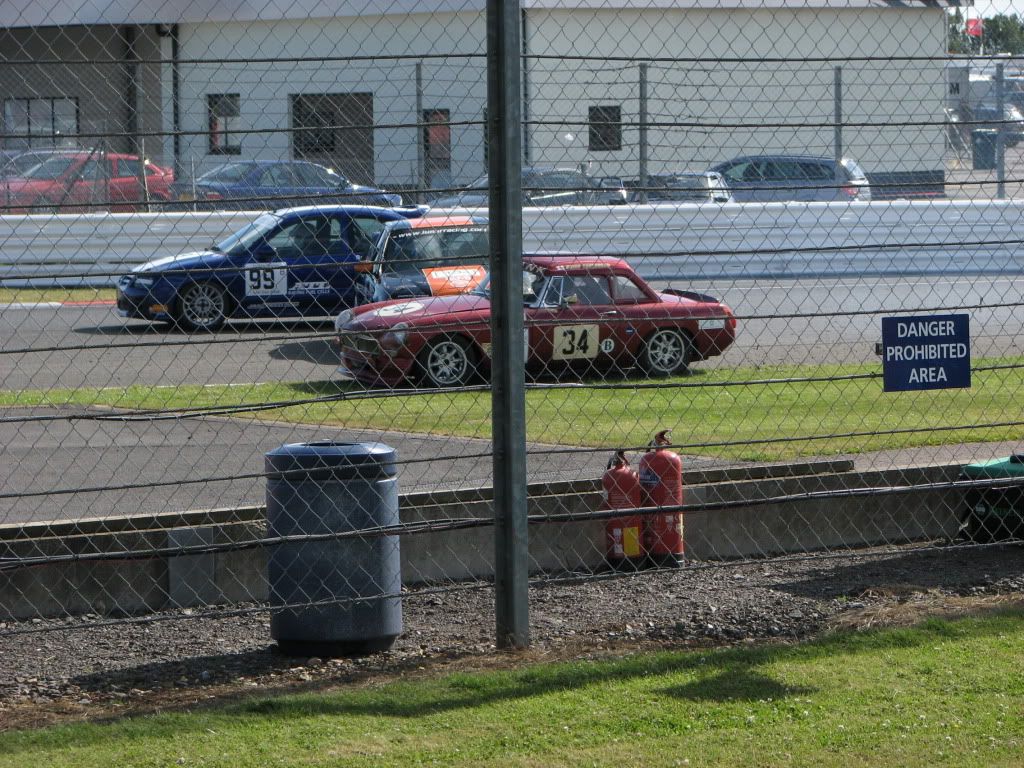 Thanks to the Throphy boys driving like animals as ever..... Doug Cole named and shamed Car 99 the car was then collected by
Malcom Gammons.
However good recover and a good result for the team entry.
Tim & my race was a little less eventfull and again the car performed well and we continued over the weekend to reduce track times.
Round 6 Mallory Park 2nd Aug 09

Cracking race today at Mallory, we set up camp on Saturday afternoon, thanks to Cassey for the track walk in the evening very helpful. I had a great tussle with Dave Brown in his MGF and once past we took another second a lap off our times.
Photos from the day - http://www.facebook.com/home.php?#/albu ... =603578064
Video of the race - http://www.youtube.com/watch?v=q0BaaiPlsUE
Some in car footage...... http://www.youtube.com/watch?v=HUcWgyFW7rI http://www.youtube.com/watch?v=PaTsuW4jBf8
Round 7 & 8 Cadwell Park 2nd Aug 09
PBIC visit to one of the UK's best circuits, with grids oversubsribed our double header took 4 races on the card.
Qualifying - Went well we took 3 seconds out of last years times which we were pleased with.
Race 1 - What can I say the best race this season, I had a good start and managed to get ahead of Pat Fenn which help to keep my championship
3rd place alive, however after being the last of the late breakers I had a little trip on the grass and Pat got back through.
Race 2 - This was clearly now my best race this season I had a flying start and got past Pat again and made places up, the race was close with a constant battle to make up places and defend my lines. I went nearly 5 seconds quicker than last year and finsihed 9th overall and 6th in class which was a cracking result. Will I have enough points for third in class? I have to beat Pat again at both Snteerton rounds which should make for some excitment. See you then.
Qualifying went well
Incar video - http://www.youtube.com/watch?v=cN1vkie6nLI

Race 1 went better
Incar video - http://www.youtube.com/watch?v=2xCocDOPsGs

Race 2 best of the bunch
Incar video - http://www.youtube.com/watch?v=1hql4q2udN0

In car from MGB in race 2 http://www.youtube.com/watch?v=JCTveGvUpcA http://www.youtube.com/watch?v=a0HUdiKyKEU
So class B was down to the wire with the last 2 rounds looming I was placed 2nd in class before the drop scores (8 out of 10 count). On paper 3rd place was possible if I beat Pat Fenn in his V8 by at least 2 places in both races, as he had only 1 round to drop. I had only ever beaten Pat once in 2 seasons so the challenge was set.
Saturday morning qualifying was set in a dust storm as the Norfolk had been dry, I managed to continue my form from Cadwell and qualified 11th place out of 33 runners with a 1.29.237 (some 3 seconds quicker than 2009) The race off the line I had a flying start and the car mad up ground by the second corner. The students were on the pit wall giving me the gap between Pat Fenn and me the race was for the championship position so I had to concentrate on building a lead over Pat. I pulled out a 30 second lead and finished 10th over and finished 3rd in class so another trophy for Lunar Racing.
Sunday Race 10 – I was now 3rd in class and had to beat Pat again to hold on to this, mathematically if Pat was not to finish and I could win the class 2nd could be mine. From the start the plan was to build a lead on Pat and secure 3rd overall.
I had a tremendous start from 13th place on the grid and mad up 2 places by the first corner, after 3 laps I had pulled a 10 second gap on Pat. Again I was racing for the championship so I let the front running class A cars through as this was not my fight. The race continued until 2 laps to go with a comfortable gap between Pat and I push hard as it was the last race of the season. I moved from 11th to finish 10th overall and 3rd in class. With my fastest lap 127.040.
So what a season 3 third places in 10 races, 3rd overall in class missing out on 2nd by 2 points! This was topped by receiving most improved driver at the annual driver do which means a lot to me and the team for the support and maintaining of the car in 2009.
Thank you to all our sponsors with out your help we would not be on the Grid
Heres to 2010 season.........